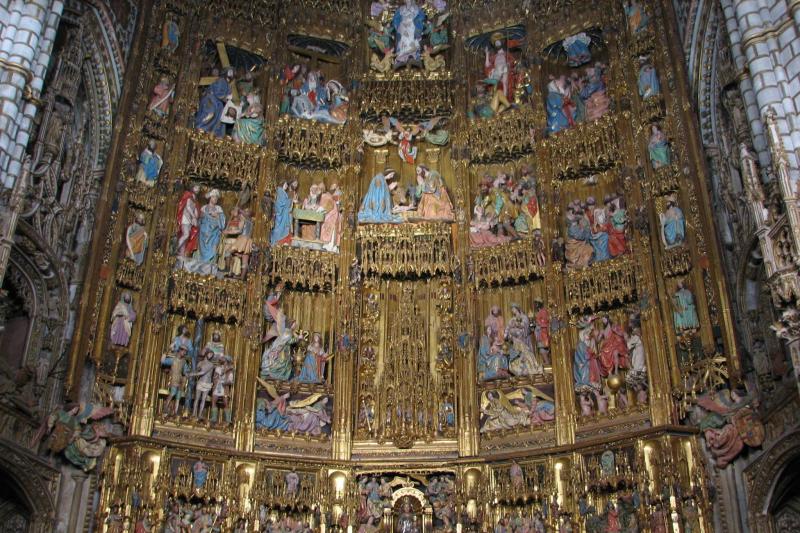 Imperial Toledo & Winery Tour
Enjoy a full-day tour Toledo from Madrid. Your local guide will take you to Toledo and show you around the historic town. Toledo referred to as 'the City of Three Cultures', here you'll visit a mosque, church and synagogue. The tour ends with a wine tasting in Bargas.

Highlights:
- Enjoy a full-day tour to Toledo with wine tasting
- Choose your own lunch menu
- Experience one of the oldest town in Europe
- Explore the Mosque of El Cristo de la Luz
- Visit the Church of St. Tomé
- See the Synagogue of Santa María la Blanca
- Enjoy a wine tasting in Bargas
Experience the City of Three Cultures - Toledo
The first stop in our tour will be at the beautiful city of Toledo, located 70 km away from Madrid. The town has been declared World Heritage Site by UNESCO because of its extensive cultural and monumental heritage and historical co-existence of Christian, Muslim and Jews.

Furthermore, Toledo is one of the oldest towns in Europe and the beautiful town has buildings from almost all periods in history and styles: Arabian, Gothic, Mudejar, Renaissance and Baroque.
In Toledo, we'll visit both a mosque, church, and synagogue. First stop is the Mosque of El Cristo de la Luz, which was finished in 1186 and was inspired by Caliphate architecture.
Next up is the Church of St. Tomé which displays 'El Entierro del señor de Orgaz', a true masterpiece by El Greco, who once lived in Toledo.

Then we head on to the Synagogue of Santa María la Blanca, which now serves as a museum. The synagogue is considered one of the finest example of Almohad architecture. It was built in 1180 and disputably considered the oldest synagogue building in Europe still standing.

Around 2:30 PM we head back to Madrid. On the way, we'll make a stop in Bargas, home to the Finca Loranque winery, where we'll visit its wine cellars and try some of the delicious wines.
How do I get my tickets?
Shortly after your booking is complete your e-ticket will be sent directly to your email, just print it out and bring it with you on your tour.

Where does the tour start?
The tour starts Julia Travel Office. The address will be on your e-ticket. Please be there 15 minutes before the tour starts.

Where does the tour end?
Th tour ends back at Julia Travel Office in Madrid.

How long is the tour?
The tour lasts approx. 8 hours.

Is lunch included?
When you book your tickets, you can choose between no lunch, the tourist lunch or the gastronomic lunch.

Tourist lunch: Vegetable stew, veal cutting with green beans and french fried potatoes & vanilla ice cream with fruit salad (beverages not included).
Gastronomic lunch: Appetizers and Castilian tapas, roasted lamb with vegetables & truffle cake with ice cream and housed wine, mineral water and coffee.
What languages is the tour available in?
The tour is only available in English.

Are there children's tickets?
No, unfortunately, we do not offer children's tickets to this tour.
Refundable tickets Refundable tickets
Refundable up to 48 hours before performance date. A cancellation fee of up to 20% pr. ticket may apply
Directions
Imperial Toledo & Winery Tour
Address
Calle de San Nicolás 15 Madrid 28013
English helpdesk

020 3870 3444
Need help with your booking? We will gladly answer your questions.